Pre-press process-digitized process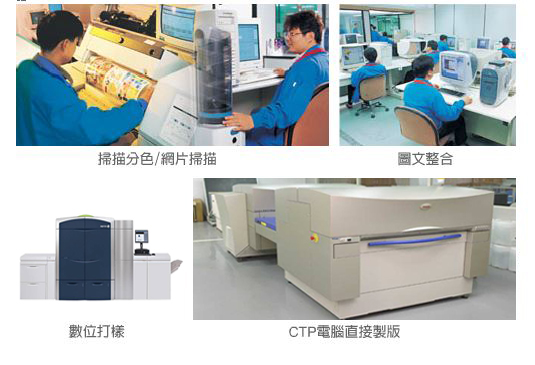 About equipment
1.

Input equipment

roller and platform color scanner

1set

2.

Plate processing equipment

workstations for

Mac and PC text and image plates

14set

Copy dot

screen scanner

1set

3.

Output equipment

raster image processors (RIP)

3set

Screen tanto 6120

1set

proofing system

(Epson Stylus Pro 9900)

3set

digital printer

(FUJI XEROX COLOR 1000i)

1set

4.

Plate burning equipment

Wang Chang

W-D-3648A

1set

5.

Computer-to-plate (

CTP) system

Kodak Magnus 800 Quantum X

1set

6.

Quality control system

Heidelberg CPC-32 automatic ink setting system

1set

Mitsubishi PPC2000 automatic ink setting system

1set

Komori PCC automatic ink setting system

1set

7.

CMS Color manage system

Color Manage System

Spectrometer -ITISIS PLUS

1set
Design and editing
We use MAC and PC computer operation to assist customers to design, draft, and edit.
Color separation
Color separation for original script with high resolution and premium quality is proceeded. Delicate and high quality color alteration services are available.Through exporting existing pictures or photos to the output system such as computer peripherals including scanners and digital cameras, images are digitized. Then with image processing software, for example, PhotoShop, PhotoImpact… to add interesting and attractive special effects.
Small plate printing
SHEN's provides complete images and applications of website processing software for various electronic scripts and production output.
Output operations
SHEN's offers the most complete collection of PostScript Chinese texts. High speed OPI printing interface replacement and HiFi color output services are also available.
Large plate printing
Via a computer, a large plate can be combined quickly and SHEN's also provides CTF (Computer to film) or CTP (Computer to plate) services.
Digital proofing
EPSON 9900 advanced digital proofing machine that delivers works with high speed and precision. At the same time, it can shorten the time for modification for quick calibration.
CTP
A complete digital process before press is utilized to shorten work hours via CTP.
CPC32, Mitsubishi PPC2000 and Komori PCC quality control system
By combining integrated relevant ink demanding files for accurate, fast, and reliable printing operation.
CMS and CIP3
Comprehensive color management system and CIP3 printing data control system are utilized.